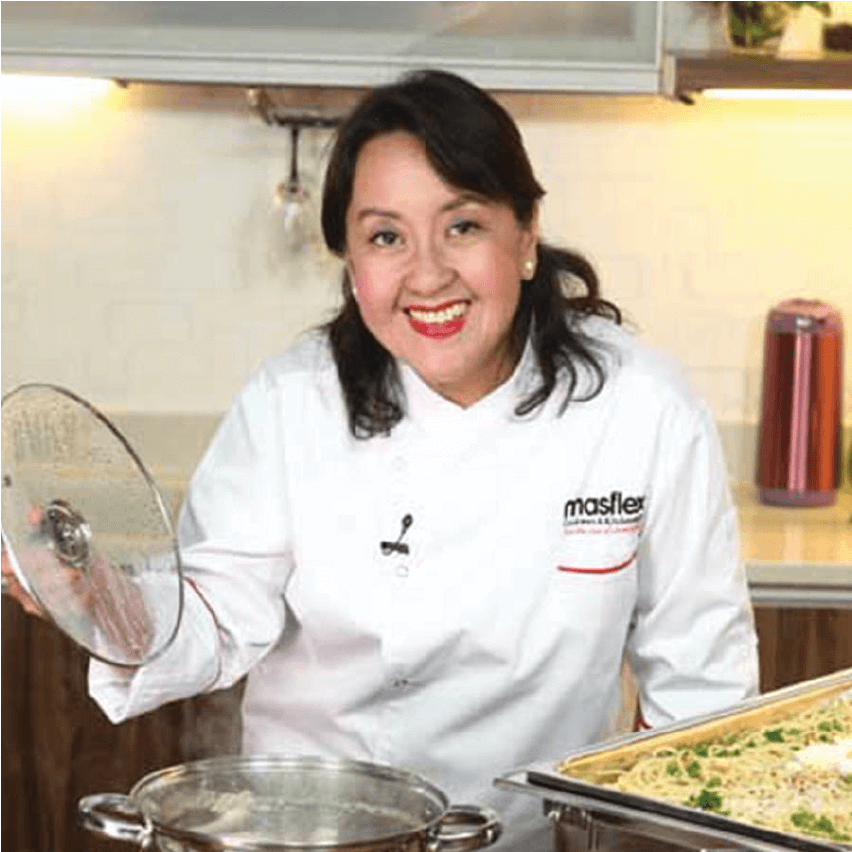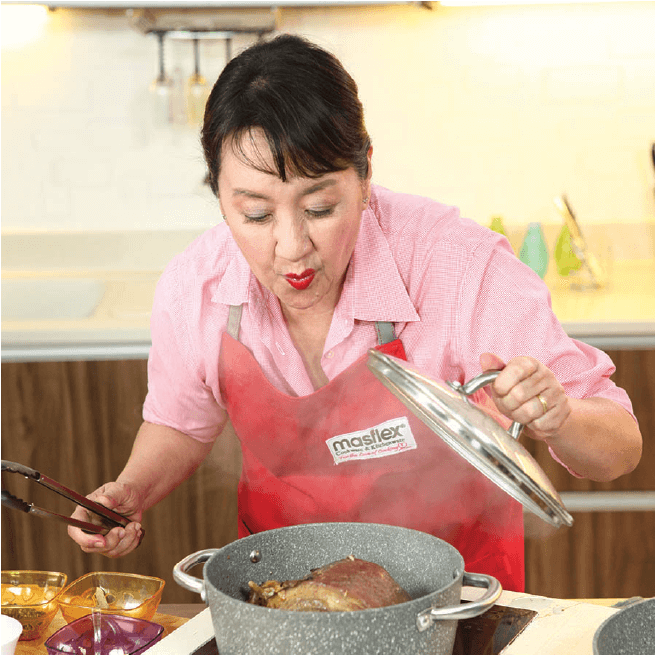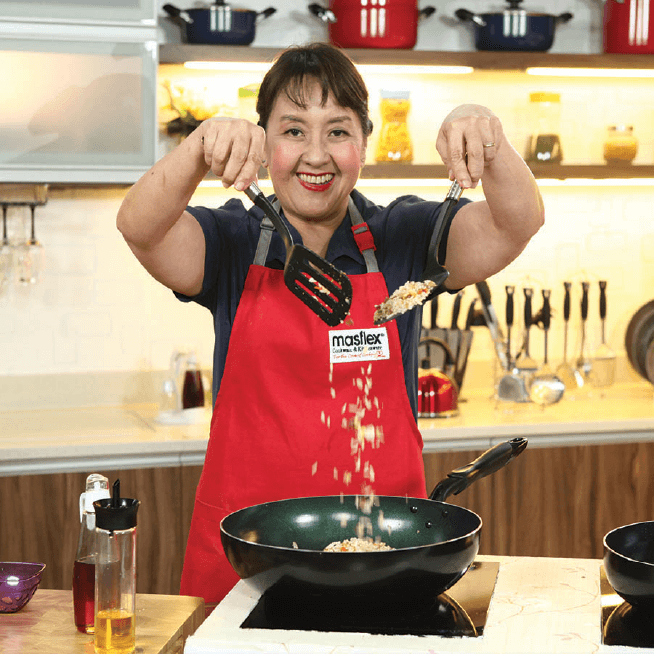 Ms. Nancy Reyes Lumen
Masflex Brand Ambassadress
Nancy Reyes-Lumen – a well-known and amiable home cook, food writer, Filipino food advocate, Filipino food researcher, and a true blue cook and foodie. A well-loved culinary personality, she has a knack for entertaining the audience while she whips up those dishes that we, Filipinos usually come home to. She shares whatever she learns and applies this to the various delectable dishes she gleefully prepares. She comes from the Reyes family of the prominent The Aristocrat Restaurant.
Nancy Reyes Lumen is a multi-media personality. She does hosting jobs in different TV Cooking Shows and is a Radio Food Topic Talent. Miss Nancy is also a much-sought food Lecturer and a live cooking demonstrator expert for TV, print, and online. She is also a writer and an editor of several cookbooks.
This active lady is gifted with so many talents. Despite her busy schedule, she is actively doing her advocacy in promoting local as well as global Filipino cuisine to the entire Philippines and the whole world. Especially to make Adobo the National Dish since she is also a self-proclaimed Adobo Queen.
She is also engaged in doing her share in uplifting the status of modest home cooks and other untapped culinary luminaries. This is apart from encouraging environmentally safe, friendly, and healthy cooking as well as practical cookery by equipping one's kitchen with the right set of cookware — pots, pans, tools, and utensils.
Currently, she is the Brand Ambassadress of Masflex Cookware and Kitchenware and is an endorser of their family restaurant, different food brands, and appliances. When asked about the partnership with Masflex she says, "It's a love affair between me and the brand and the love of cooking."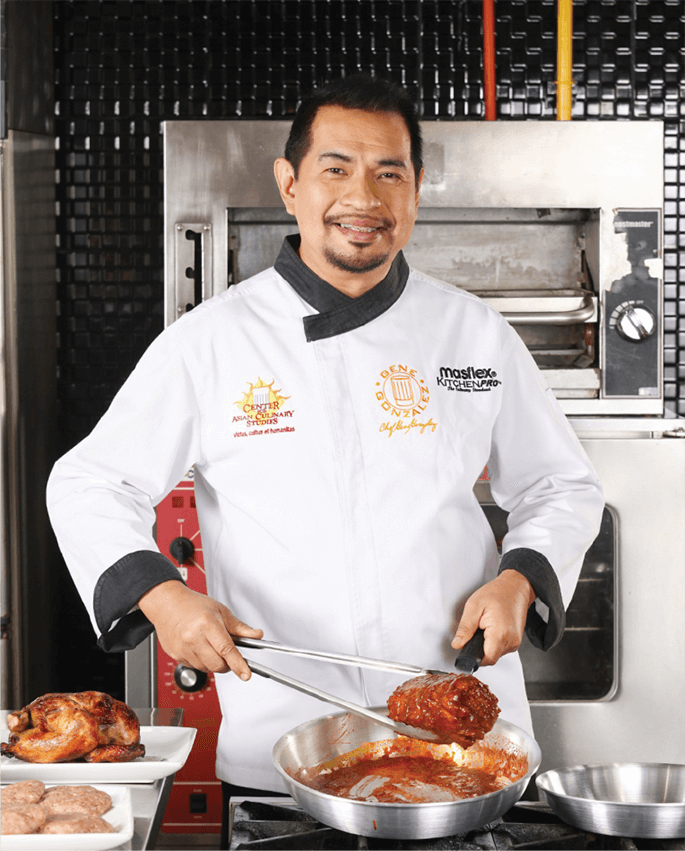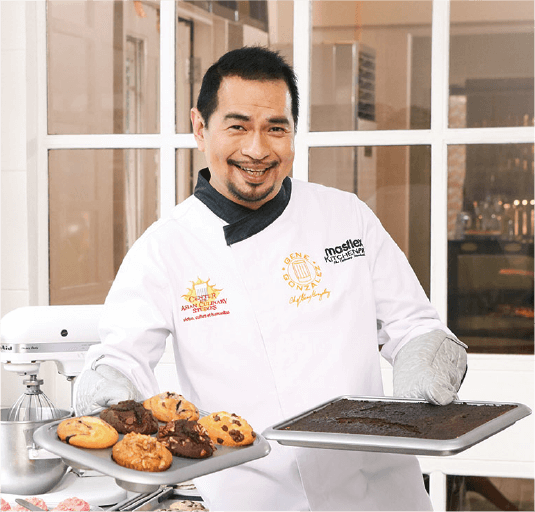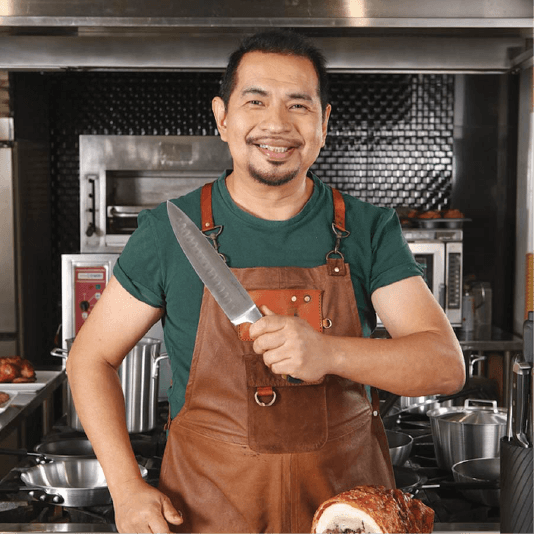 Chef Gene Gonzalez
KitchenPro Brand Ambassador
Chef Gene, as he is popularly known, is the President of the Center for Asian Culinary Studies. He is the only Ten Outstanding Young Men awardee in Culinary Arts. He has also received numerous awards for restaurant and hospitality management from various prestigious institutions including the Hotel & Restaurant Association of the Philippines, the International Food Service Executive Association, and the Council of Hotel and Restaurant Educators of the Philippines. Chef Gene comes from a family of restaurateurs. At the age of 23, he opened, as chef-owner, Cafe Ysabel in San Juan.
Aside from a series of apprenticeships in France and Italy, he has completed various specialized courses in food arts, Culinary Institute of America, and the California Culinary Academy. An avid and prolific writer, he edits a weekly food page for one of Metro Manila's major daily newspapers and has authored 15 cookbooks. As an author, he has received numerous national and international awards and citations for his books on food and mixed drinks notably garnering two World Gourmand Awards for his recent books.
In his desire to apply his extensive culinary expertise Chef Gene has undertaken research and development projects with major food manufactures and flavor laboratories.
The KitchenPro Culinary Collection is the product of his latest collaboration with a major company involved in manufacturing kitchenware.